American Type Hose Clamps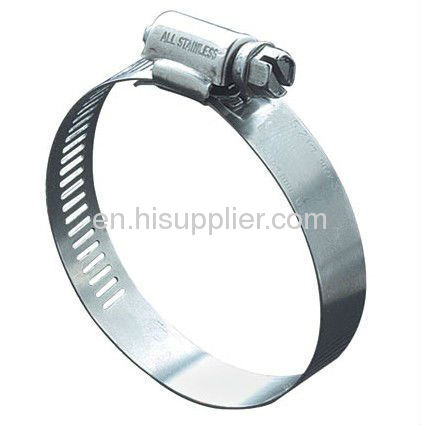 Specifications:
1.Material:stainless steel or galvanized steel.
2.Bandwidth:12.7mm/14.2mm/15.8mm.
3. Bandthickness: 0.5mm-1.2mm.


material
band
housing
screw
suggested install torque
W1
zinc plated steel
zinc plated steel
zinc plated steel


3.8Nm
W2
AISI 201SS/301SS
AISI 201SS/301SS
zinc plated steel
6Nm
W2B
AISI 201SS
zinc plated steel
zinc plated steel
W4
AISI201SS/301SS/304SS
AISI201SS/301SS/304SS
AISI201SS/301SS/304SS
W5
AISI 316SS
AISI 316SS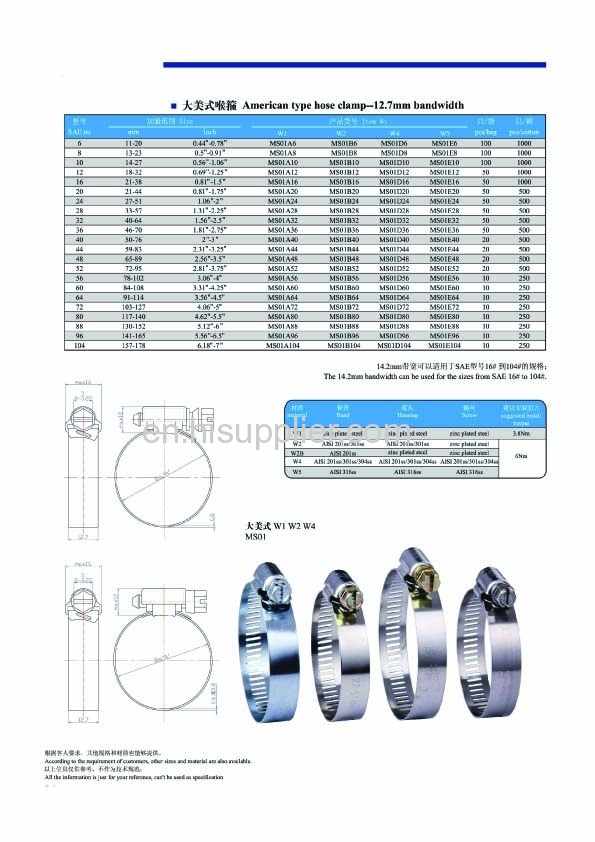 Advantages:
1.The outeredge of the band with smoothing and shaping treatment precludes the damage ofthe hose.
2.using highquality material and precise stamping molding, prevents threadstripping.
3.withprecise design, uniform stress, good sealing ability, can be twisted smoothly,and used multiple times.
size:various sizes and typesare available ,as follow chart or after your demand

MainProducts Outline:
Larger & custom sizesavailable upon request.
1British hose clamps: band thickness isusually about 1 mm, double the thickness of other hose clamps. So the bandtension is very strong. Widely used in larger pressure occasions. With out toothtraces at inner ring of the band can protect the soft surface of hoses.
2German hose clamps: the unique sidepressing design, and non-perforated design can effectively prevent the softsurface of the silicone tube and hose from damage.
3.American hoseclamps: with band threadthrough-hole, and teeth of the screw fitted in, they have more powerful locking.and accurate Occlusal. Also,american hose clamps can be used in non-circularobjects, they can bundle the square columnar objects, such as flue, electricvehicle batteries,etc.
4.T bolt hose clamps:similar to theirbrothers ---- the single-head solid strong clamps, both of them belong to thepowerful hose clamps , which also called European clamps. The common bandwidth20MM, 24MM, 26MM,etc., have a larger Strong torque. Widely used in places withstrong fastening force requirements.
5.Vband hose clamps: traditional flangereplacing products. beautiful appearance. cheap. fast and easy installation.high strength, good sealing performance. Pipes are connected with highconcentricity. and easy removal. They can be used as an active connection ofround or oval ducts and pipes which require constant maintenance andactivities.



working shop