stainless steel pipe clamp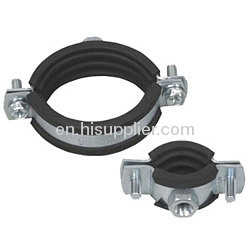 1. product name: KS-103 ( with glue).
2. Model number: KS-103.
3. Place of origin: China.


1. Jointing nut: M8. 2. Thickness: Φ15mm. ≤ Φ ≤ 100→2mm. Φ ≥ 100mm. →2.5mm. 3. Pull strength: 600kg. 4. Twist strength: 8kg. 5. 2pcs M6 x 20 screw.
a. Quicking locking single screw pipe clampenables one-hand mounting.
b. A pipe is preassembled by meresnapping.
c. The quick-clamping system protects the clampagainst uncontrollable opening after snapping.
d. Compact structural design of the clampenables simple and full piping insulation without larger overlap in the area ofthe toggle and closing device. All this is possible even using a small thicknessof insulating material.
e. It prevents the action ofelectrolysis.
f. Single-screw pipe clamps with a snap locksatisfy the highest requirements while mounting on walls, ceilings and floorsbut also in connection with pipes used in sanitary installations.



working shop