We produce the most popular T-Bolt Clamps with very enconomical and versatile application, reliable, heavy duty method of assembling hose ducting connections and tubing.
T-bolt band clamps are frequently installed on coolant and air-intake systems for construction, truck, and bus engines.
They are also widely used on duct systems, equipment, irrigation systems, muffler tube and more.
Only regular tools are needed to tighten the bolt.
Band width :19mm(3/4") , 38m(1-1/2") , 50.8mm(2")wide band.
Material :
304 Stainless steel band, trunnion & welded bridge liner, Bolts & nut in carbon steel;
We also offer all parts are in 304SS.
clamping truck engine hose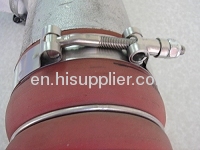 clamping muffler tube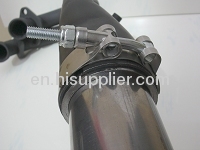 QR2 quick release hose clamp




Cheng Heng's quick release latch type T bolt hose clamp with all 300 series stainless steel.
This type is designed to have facility of re-opening and re-clamping of assembly.
Band width :19mm(3/4") , 38m(1-1/2") , 50.8mm(2")wide band.
Sizes depend on clients's request.

TBCS Spring Loaded T-Bolt clamp
Manufactured of Stainless steeel 304 Band, trunnion & welded bridge with carbon steel nut,bolt,Spring.
Used on applications such as charge cooling weather condition.
Band width :19mm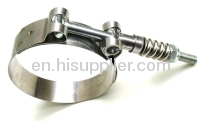 SAE NO#
CHpart No#TBC-
CLAMPING RANGE
Min-Max(inch)
CLAMPING RANGE
Min-Max(mm)
28
50
1.3/4"-2"
44.5~50.8
32
55
1.7/8 -2.3/16
47.6~55.6
36
58
2.0 - 2.5/16
50.8~58.7
40
61
2.1/8 - 2.7/16
54~61.9
48
68
2.3/8 - 2.11/16
60.3~68.3
52
71
2.1/2 - 2.13/16
63.5~71.4
56
74
2.5/8 -2.15/16
66.7~74.6
60
77
2.3/4 -3.1/16
69.9~77.8
64
81
2.7/8 - 3.3/16
73~81.0
68
84
3 - 3.5/16
76.2~84.1
70
85
3.1/16- 3.3/8
77.8~85.7
72
87
3.1/ 8-3.7/16
79.4~87.3
76
90
3.1/4 - 3.9/16
82.6~90.5
80
93
3.3/8 - 3.11/16
85.7~93.7
84
96
3.1/2 -3.13/16
88.9~96.8
86
98
3.9/16- 3.7/8
90.5~98.4
88
100
3.5/8 - 3.15/16
92.1~100.0
92
103
3.3/4 - 4.1/16
95.3~103.2
100
109
4 -4.5/16
101.6~109.5

SAE NO#
CH Part No#TBC-
CLAMPING RANGE
Min-Max(inch)
CLAMPING RANGE
Min-Max(mm)
102
111
4.1/16 - 4.3/8
103.2~111.1
104
112
4.1/8 - 4.7/16
104.8~112.7
108
115
4.1/4 -4.9/16
108~115.9
116
122
1.1/2 - 4.13/16
114.3~122.2
118
123
4.9/16- 4.7/8
115.9~123.8
124
128
4.3/4 -5.1/16
120.7~128.6
132
134
5 - 5.5/16
127~134.9
140
141
5.1/4 - 5.9/16
133.4~141.3
148
147
5.1/2 -5.13/16
139.7~147.6
156
154
5.3/4 -6.1/16
146.1~154.0
164
165
6 -6.1/2
152.4~165.1
172
171
6.1/4 -6.3/4
158.8~171.5
180
177
6.1/2 - 7
165.1~177.8
188
184
6.3/4 -7.1/4
171.5~184.2
196
190
7 - 7.1/2
177.8~190.5
204
196
7.1/-7.3/4
184.2~196.9
212
203
7.1/2 -8
190.5~203.2
220
209
7.3/4 - 8.1/4
196.9~209.6
228
215
8 - 8.1/2
203.2~215.9