product name:
Single Ear Pinch Clamp
DE06Q Series: 1/4" wide AISI 300 series stainless steel. Welded construction for reliability.
single ear pinch hose clamps is mainly used in automobiles, tractors, ships, gasolineengine, and so on each kind of mechanical device for oil, gas, hydraulic hoseconnector, various types of rubber tube interface must join partsfastening
Single ear pinch clamp has been presented above, want more similar products, please click U-shaped mounting clamp,rubber hose clips,G clamps.
Category: Single ear pinch clamps
Related Category: Mini hose clampsSpring band clampsFrance type hose clampsU-type clampsEqual-diameter flexible couplingsThrobbing clampsRepair clampsFlexible couplingsFlexible plumbing coupling for drain wastes and went systems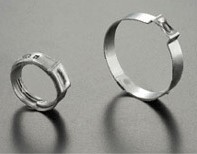 Single Ear Pinch Clamp