General Introduction
Product name Plastic Hose Clamp
Texture Engineering plastic POM
Working temperature -30℃-120℃
Working theory Hose clamp is new type structure fastener with strong mesh which is combined with various features of plactics and well-designed with precise tooth type structure to convert the acting force by adjustment of appearance structure. Hose clamp is common used new type accessory for connecting, fastening and sealing tubes, which can replace traditional fasteners such as screw and nut, metal hose clamp and rope etc. and also with the advantages of easy fastening, strong force, good sealing, convenient disassembly, recycle use and high cost performance.
Specification of plastic hose clamp
Fastening display of plastic hose clamp
Disassembly method
Clamp the outermost tooth with a wire-cutter (pls don't clamp left and right tooth together), move flatly and gently as the tooth slot, fleetly twist it with small angle (upper and nether tooth misplaced), then it will be loosened.
Pls note keep small angle when twisting to ensure the tooth undeformed when misplaced. It is reusable.
Solutions for problems
1. Checking the fastening effect
Rotate the hose clamp manually to ensure it is tightly fastened with no blind side, good sealing and smooth fastening surface.
2. Leakage and shed after pressured
(1) Leakage after pressed includes many causes such as hose clamp with insufficient force, diameter of tube is far more than outer diameter of connector, tube with insufficient flexibility etc.
(2) Shed after pressured includes two causes: one is surpassing limit pressure of hose clamp with inner tooth prop up outer tooth, multi-tooth lose common mesh (only rely on main tooth); another is friction force between tube and joint is too small or specification of hose clamp is improper with tube sheded off (head part is still fastened). The solution is choose right specification or simultaneously use two pieces hose clamps (head part should be placed at two places, or it will be hard to disassemble)
3. Service life
Usually plastic hose clamp can be used for 2-5years.
4. Color difference
Color difference is caused by different production equipments, different parameters of euiqpment during moulding injection, different batches, but property of hose clamp can be ensured to be the same with same raw materials.
Product display of plastic tube connector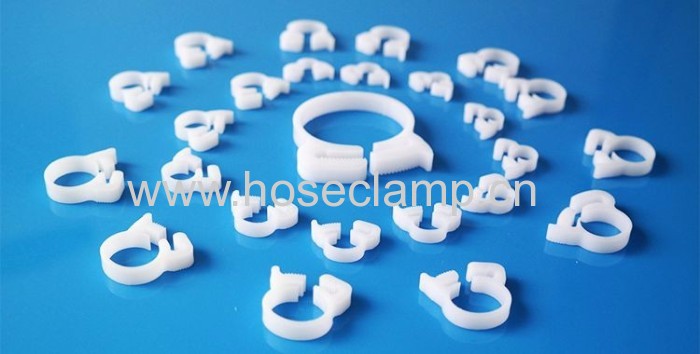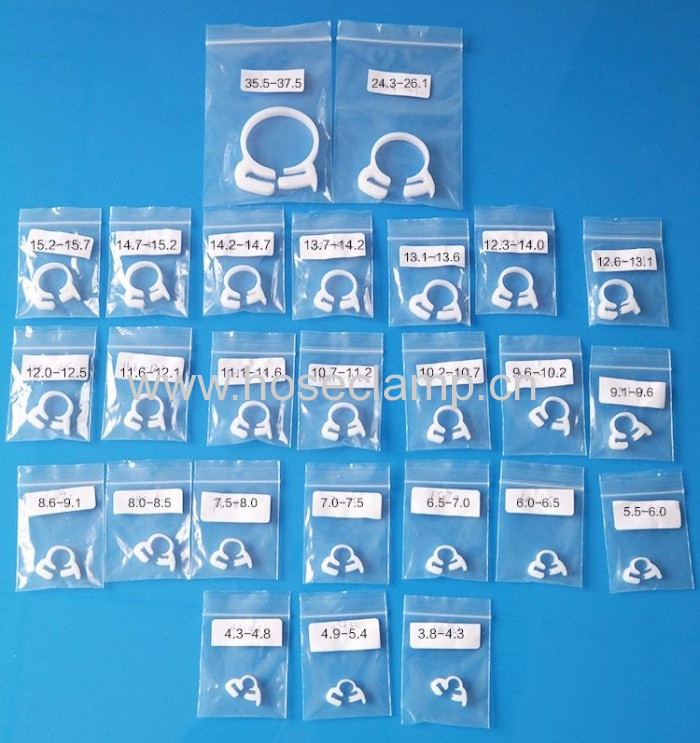 Our Service
Pre-sale Service: free consultance, product introduction and application directions; factory inspection
After-sale Service: one year warranty (accessories excluded) ; problems solving; new project support
FAQ
Q 1. If the plastic tube connector was damaged when we got it, how will we do?
A: Pls take the photos of damaged carton with shipping express mark such as FedEx, UPS, DHL, TNT etc.
also we need photos of damaged products, after verified we will ship out new product for you asap.
Q 2. Do you supply other accessories such as inverted cone joint etc.?
A: YES, we produce plastic tube connectors by ourself, we will suggest most suitable accessories according to your application needs.
Q 3. How long can you send out the tube connectors and how long can i got it?
A: Usually we send out sample qtys within 3-5 days after received payment and 5-7 working days reach you by international express; for large order qtys or special OEM project, we will further discuss with you for details.
Q 4. How to choose a suitable plastic tube connector?
A: Pls let us know your required size and specifications, then we will suggest the most suitable one for you.
Q 5. How much is the shipping cost?
A: Shipping cost depends on the total weight after packed, usually we send by TNT,UPS,DHL,FedEx, EMS. Pls consult our customer service for specific shipping cost.
Q6. If we order big quantities, is it possible to be cheaper?
A: Of course, pls consult the customer service about the price, packing and shipping details