product name:
Double Head Heavy Duty Clips
HOSE CLAMP SPECIFICATION AS BELOW:
1. HOSE CLAMP Commodity: hose clamp (clip)
2. HOSE CLAMP Original: China
3. HOSE CLAMP Material: Galvanized Or Yellow Galvanizedor stainless steel( SS201, SS202, SS304,SS316)
4. HOSE CLAMP Kind:
(1.)Germany Type hose clamp with welding(BAND WIDTH: 9MM & 12MM)
(2.)Germany Type hose clamp without welding( Band width: 9MM & 12MM)
(3.)British Type hose clamp, BS 5315 (Band width: 9.7MM & 11.7MM), with TUBE HOUSING, WITH WELDING, with RIVETED HOUSING.
(4.) American type hose clamp(Band width: 8MM & 12.7MM)
(5.) 2-Pcs Housing perforated band hose clamp (Band width: 12.5MM & 14.2MM & 15.8MM)
(6.) Hi-torque clamp with washers and liner (Band width: 14.2MM & 15.8MM)
(7.) Quick release hose clamp(Width: 12.7MM)
(8.) Unitary clamp( ROBUST CLAMP)
(9.) T-bolt hose clamp
(10.) T-sping hose clamp
(11.)V-BAND CLAMP
(12.) Heavy duty clamp with double bolts
(13.) Single ear clamp(5MM, 7MM, 9MM)/Double ears hose clamp
(14.)MINI HOSE CLAMP
(15.)Double wire hose clamp
(16.) Spring hose clamp
(17.)Heavy duty pipe clamp
(18.) "U" type pipe clamp
(19.)" F" type pipe clamp
(20.) Type A/B/C/E/G/F coupling
SRxxQ Series: AISI 300 series stainless steel.
Screw: hex-head.
SRxxB Series: Galvanized carbon steel.
Screw: hex-head.
Heavy Duty Clips-Double Head has been presented above, want more similar products, please click high strength clamp,Heavy duty clip.
Category: Heavy duty clip
Related Category: High strength clampsuper clampsV-bands heavy duty clampsT-bolt clamp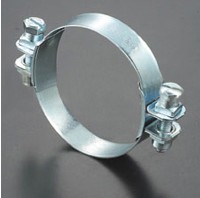 Double Head Heavy Duty Clips




Feature
1.A general purpose Industrial Clamps.
2.Developed for Maintenance free, Long Life applications.
3.Extra strong interlocking won't pull apart.
4.No spot welds to rust, corrode or rupture.
5.Smooth underside insures most effective seal possible.
6.Hollowed band keeps positive grip, sustains extreme torque and vibration.
7.Stainless Steel Clamps provide significant advantages in strength, unlimited
torque and corrosion resistance.
8.Stainless Steel Band with a tensile strength of105.5 kg/mm2(150000 psi) are 40% to 50%stronger than carbon steel bands.
9.Best results are obtained in petroleum industry, marine engineering, chemical
industry etc.